Shopping Cart
Your Cart is Empty
There was an error with PayPal
Click here to try again
Thank you for your business!
You should be receiving an order confirmation from Paypal shortly.
Exit Shopping Cart
Why YOU should recycle /reuse
The Earth recycles everything and reuses the material from dead plants and animals to feed new plant life and make new soil to replenish itself.
Humankind should take cues from Mother Nature and do no less: recycle everything.
Since the invention of plastic from oil – it's everywhere, overwhelming landfills it doesn't decay and filling the oceans with debris that harms and even kills marine life.
If people and Governments do not support/quit recycling:
 Garbage piles up
 Landfills increase in number
 Greenhouse gases increase
 Fossil fuels disappear sooner
 Natural resources diminish
.
My biggest problem: to reduce plastic while buying food and other items
Most Items and packed and double packed in unrecyclable plastic packaging - at least as a company choose recyclable/reusable packaging
I buy food/water in glass however you can only re-use so much glass
I use it, give it away and still it piles up Why?
.
Because in Bahrain the authorities and local recycling companies (still) do not support the collection and reprocessing of glass and it all goes to the landfill
.
On average at least 20 per cent of waste is paper and cardboard, 15 per cent is plastic, 10 per cent is metal, and glass accounts around three to five per cent. That means 45 percent of all municipal waste could be easily recycled. The other 45% consists of Construction waste and this is now getting recycled by Nass company (45% of landfill waste)
.
Recycling and material recovery rates in Bahrain (8% wt. for domestic waste, of which 3% wt. by private sector) 2012 no rates to be found after 2012
.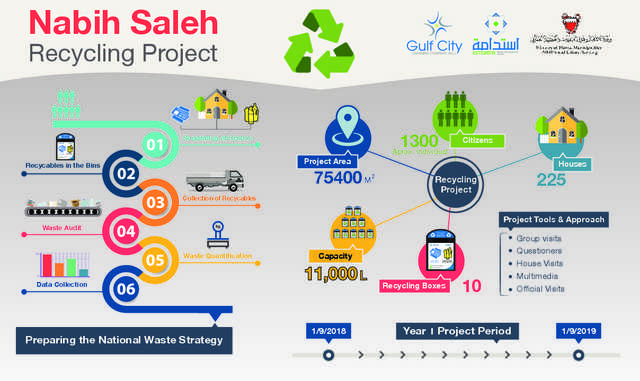 where is the report?

All we need is one company to collect and reprocess glass into cullet .
Right now the closest one is in the UAE but Bahrain still landfills it which is a crying shame as it is indefinitely recyclable and in the landfill it stays without degrading for 1+ million years https://glass-scan.com/index.php?glass-recycling-en/
It can be reused for streets, tiles, beach sand etc.
.
More funds for recycling/reprocessing waste Urgently needs to be an integral part of the National budget
.
Recycling of Glass Saves Energy, Reduces Industrial Pollution, Conserves Natural Resources, Conserves the Landscape,
Glass Recycling Pays
We all want to get rid of plastic however how can we without proper and long lasting support of Authorities, supermarkets, national and international companies who still bottle and pack most items in plastic containers (unrecyclable carton) that all end up in the landfills eventually (pollutes our water, stops water from seeping into the ground, and ends up in oceans harming marine life.
Come on we are running out of time and space the solution is there - people are ready and willing
Put the money where your mouth is
Categories: 2019
/