Shopping Cart
Your Cart is Empty
There was an error with PayPal
Click here to try again
Thank you for your business!
You should be receiving an order confirmation from Paypal shortly.
Exit Shopping Cart
Mobile Phone masts are everywhere in Bahrain.
They have to pay a fee to place the mast in an area if it is granted, which communications companies easily bypass by placing them on top of houses and buildings or in gardens paying a monthly fee of BHD 500- 1000 per month (that was offered to me), which is considered private property.
However in many cases they are placed without consulting or informing the neighbors who might not want such a dangerous monstrosity near their house. In Bahrain many are placed in clusters of 3 different companies placed in a mere 100m2 in residential areas.
People living close to mobile phone masts (base stations) frequently report symptoms of electromagnetic hypersensitivity such as dizziness, headaches, skin conditions, allergies and many others, the mechanisms for which are only just beginning to be understood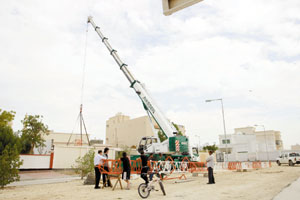 There is also growing anecdotal evidence for cancer clusters forming around them. However, we are regularly told by the mobile phone industry that these base stations are safe because their microwave radiation falls off rapidly with distance and is far too low to generate significant heat.
Microwaves have the power to burn human tissue and the eye is particularly susceptible.
The FDA warns that you shouldn't stand directly against your microwave while it's heating your food.
It's especially important that children follow this rule since their bodies absorb radiation more easily than adults.
One short-term study found significant and disturbing changes in the blood of individuals consuming microwaved milk and vegetables.
Eight volunteers ate various combinations of the same foods cooked different ways. All foods that were processed through the microwave ovens caused changes in the blood of the volunteers.
Hemoglobin levels decreased and over all white cell levels and cholesterol levels increased. Lymphocytes decreased.
A scientific test that can be done by children, taking two plants, and water one with microwaved water that is cooled down, the other kettle boiled and cooled down water.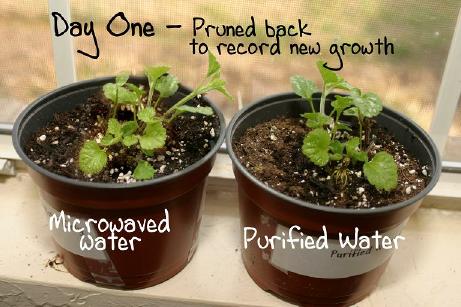 Each time the result is the same the plant watered with microwaved water dies.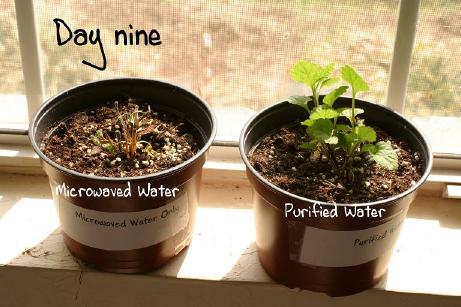 Do scientists know everything about mobile phones and health?
The World Health Organisation is not the only entity confirming that health effects do exist from electromagnetic fields (EMFs). Before then, the Bio-Initiative Report was conducted by a group of researchers documenting 2,000 studies of biological effects of low frequency and radio frequency radiation, and calling for more realistic human exposure guidelines.
And research is continuing. Mobile phones have only been widely used for about 20 years, so it is not possible to be so certain about the safety of long-term use.
More research on the effects of mobile phones on children is also needed, as they are already known to be more sensitive than adults to many environmental agents, such as lead pollution and sunlight. It's advised is to be on the safe side and limit mobile phone use by children.
Alasdair Philips of the campaign group "Powerwatch" (UK) has invented a device to detect mast emissions by converting microwaves to sound.
Alasdair insists that pulsing microwaves constantly bombarding the body are responsible for complaints of ill health.
"It's like a pneumatic drill going outside your house," he explains.
"You can't hear it but your body cells are being impacted by this pulsing microwave radiation."
Campaigners claim that the pulsing waves from the masts interfere with electrical signals in the body, damaging the immune system.
In one town the masts were removed after complaints of ill health - Straight away people started reporting that their headaches had stopped, the dizziness stopped, rashes cleared up.
If microwaves damage human health surely it's a given that low radiation microwaves emitted from mobile phone masts 24/7 is detrimental to your health and that of your family and neighbors.
For those interested in reading more about the subject check this link with studies that inform about the dangers of Mobile phone masts.
The fact is that the majority of studies that claim no biological effects from EMF radiation are funded by industries, especially cellphone industries. (Henry Lai, University of Washington). Apparently, money can buy facts and beliefs.
I suggest you visit Dr Magda Havas's website (www.magdahavas.com), who has been doing research on the biological effects of EMF pollution since the 1990s.
In the Kingdom of Bahrain very little can be done once the mast is placed so it is esential to prevent the placement near your houses or schools.
How?
When you see them trying to place one stop them by demanding to see their permit (no such permits issued for placing them in gardens on houses and in residential areas) .
Go to the municipality and call the police to post a complaint against the telecommuncations company as they are the ones trying to get away with it by placing them on private properties.
Keep an eye out for them trying to raise it again when you are absent, and prevent it from being put up once or twice and the telecommunications company will not persue the placement when you make a big fuss - this is how I prevented one from being placed in a neighbors garden - he was upset about the money he wasn't going to get paid, but ultimately it is the health of our families that is far more important than the payoff for placing these illness causing mobile masts...

Categories: 2015
/