Shopping Cart
Your Cart is Empty
There was an error with PayPal
Click here to try again
Thank you for your business!
You should be receiving an order confirmation from Paypal shortly.
Exit Shopping Cart
Published was project tender for a marine outfall pipeline for the Muharraq sewage plant – the area is a shallow lying area only up to 2.5 meter below sea level which in itself it not advisable due to the lack of strong currents – this is normally considered a deep water project ( 30 meters or more below sea level)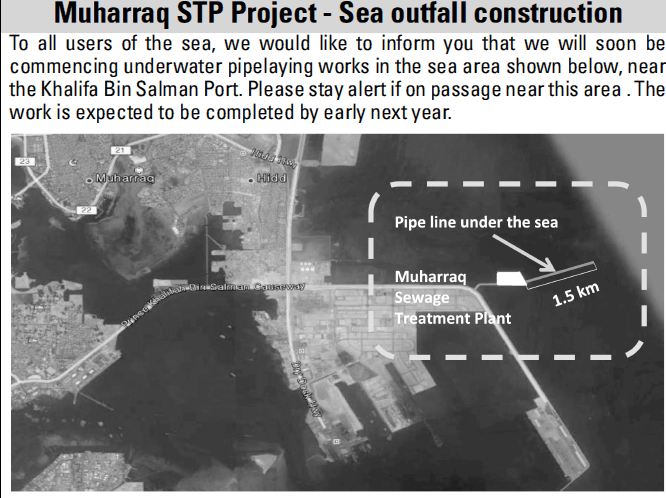 What is worrying is the fact that a few km further the Hidd desalination plant lies and high saline water( high concentrated brine) purged by them is already causing an increase in salinity in the area these also should be far away from shore (30 meter deep or the distance of 1 nautical mile – )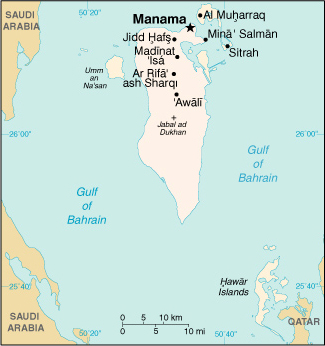 This in it self is a environmental disaster for the Fasts (reefs) and fishing in the area with impact studies being in its infancy because of the relative short time these types of plants have been operating and short-time impact has shown to be disastrous never mind long-term. and these will be effected by the outfall pipeline how much effluent will end up back in our drinking water?
A marine outfall is a pipeline or tunnel that discharges municipal or industrial waste water, storm water, combined sewer overflows, cooling water, or brine effluents from water desalination plants to the sea.
Usually they discharge under the sea's surface (submarine outfall). In the case of municipal waste water, effluent is often being discharged after having undergone no or only primary treatment, with the intention of using the assimilative capacity of the sea for further treatment .
Disadvantages
Marine outfalls for partially treated or untreated wastewater remain controversial.
Still according to Sharon Beder, the design calculation and computer models for pollution modeling have been criticized, arguing that dilution has been overemphasized and that other mechanisms work in the opposite direction, such as bio-accumulation of toxins, sedimentation of sludge particles and agglomeration of sewage particles with grease.
Accumulative mechanisms include slick formation, windrow formation, flocculation formation and agglomerated formation.
Grease or wax can interfere with dispersion, so that bacteria and viruses could be carried to remote locations where the concentration of bacterial predators would be low and the die-off rate much lower.
Technology
Outfalls vary in diameter from as narrow as 15 cm to as wide as 8 m; the widest registered outfall in the world with 8 m diameter is located in Navia (Spain) for the discharge of industrial waste water.
Outfalls vary in length from 50 m to 55 km, the longest registered outfalls being the Boston outfall with a length of 16 km and an industrial outfall in Ankleshwar (India) with a length of 55 km. The depth of the deepest point of an outfall varies from 3 m to up to 60 m, the deepest registered outfall being located in Macuto, Vargas (Venezuela) for the discharge of untreated municipal waste water.
The proposed one in Muharraq is 1500 meters long and about 2.5 meters deep

Outfall materials include polyethylene, stainless steel, carbon steel, glass-reinforced plastic, reinforced concrete, cast iron or tunnels through rock.
Common installation methods for pipelines are float and sink, bottom pull and top pull.
100% of Bahrain's water is desalinated what about the sea-currents - taking in consideration also that the water in the Arabian gulf takes 200 years for a full flow circle- On top of the 40 000 ships that yearly come through the Arabian Gulf and dump their ballast ( illegally but hardly ever enforced)
The nuclear facility in the Iranian City of Busher (most probably dumps untreated nuclear waste water) the depleted uranium polluted water coming from Tigris and Euphrates (due to depleted uranium being used for all weapons and not cleaned up but left in dumps to continue to pollute the Iraqi people (and us in the Gulf))
Categories: 2012
/