Shopping Cart
Your Cart is Empty
There was an error with PayPal
Click here to try again
Thank you for your business!
You should be receiving an order confirmation from Paypal shortly.
Exit Shopping Cart
Reading through the Gulf daily News I came on a photograph of children that had collected more than 8000 plastic bottles which were given to Mr, Khalid AlQoud and given to the Bahrain Assosiation for parents and friends of disabled- to be sold with money collected from the sale wheelchairs will be bought for people with special needs.
To help or for more information call Bahrain Association forParents and Friends of the Disabled on 17811223 or Mr Hubaishi on39663639.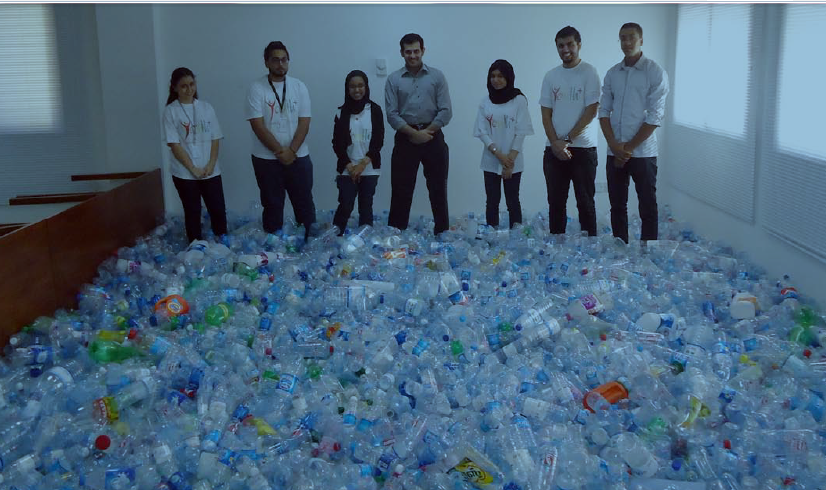 I happen to know Mr. AlQoud since 2009 when he was part of a committee that had organized Bahrain day on the Aljazair beach in Zallaq which I attend and I chided him for not placing any garbage bins while more that 10 000 people attended this event.
He took it to heart and the very next day he cleaned the whole beach with a crew- for which he got my deepest gratitude.
He set up the CSR:
Corporate social responsibility (CSR, also called corporate conscience, corporate citizenship, social performance, or sustainable responsible business/ Responsible Business) is a form of corporate self-regulation integrated into a business model. CSR policy functions as a built-in, self-regulating mechanism whereby a business monitors and ensures its active compliance with the spirit of the law, ethical standards, and international norms. The goal of CSR is to embrace responsibility for the company's actions and encourage a positive impact through its activities on the environment, consumers, employees, communities, stakeholders and all other members of the public sphere.
So I decide to have quick chat and was told that these 8000 bottles were collected in a mere 2-3 weeks.
Big corporations make millions of dinars in profits and with big whooha they publish their charitable efforts.
But how much of their profits go to charitable organizations?
I would like to see a Zakat tax imposed on big companies (2.5%) over their profits before shareholders receive their dividends and that  this  amount is deposited  in a special fund to be used for community projects like parks run by volunteers so the full amount will be used for needy projects.
Many people in drink tap water which over the years has gone more and more brackish as they can't afford to install the simple machine that desalinates the tap water in the house (60BHD)
Many industrial companies around Bahrain have their own desalination plant with excess water being dumped back in the sea. Say what?

It is a costly waste - but on the other hand this might prevent the excessive high salt content of of the Arabian gulf.

The word Zakat means both 'purification' and 'growth'. Our possessions are purified by setting aside a proportion for those in need, and, like the pruning of plants, this cutting back balances and encourages new growth.
Zakat is the amount of money that every adult, mentally stable, free, and financially able Muslim, male and female, has to pay to support specific categories people.
Categories: 2012
/