Shopping Cart
Your Cart is Empty
There was an error with PayPal
Click here to try again
Thank you for your business!
You should be receiving an order confirmation from Paypal shortly.
Exit Shopping Cart
I miss seeing the night-sky and its immeasurable amount of stars - satellites - and other (blinking) lights.
I decide to go for a ride into the desert of the Kingdom to find a place where I could watch them unobstructed by lights.
Impossible, no matter where I went there were oasis of lights belonging to oil drilling projects lighting up the once dark desert environment.
Got stopped by police who where thinking we were lost.
And on a deserted road into the darkness signaled to turn back too.
At long last we put chairs on Aljazaer beach with our backs to the multitude of light and saw very little of unlit sky there too over the water.
Where I am from the moment I stepped out of my front door and walked up the sandy path to walk my dog it was pitch-black with only the lights of the stars to be seen.
I spend many night huddling under a blanket on the beach chair looking at the sky and waiting for the sun to come up a glorious sight.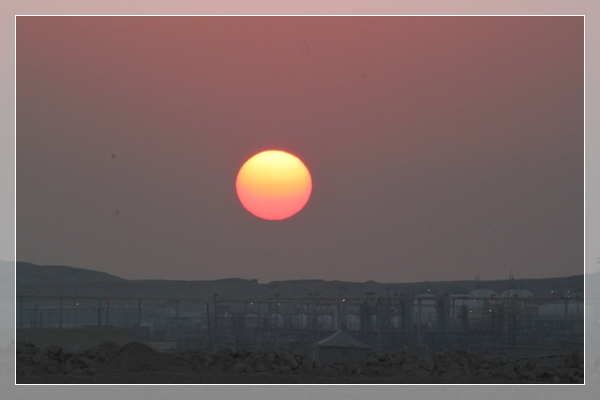 Sakhir December 2011 - the sun going down over  Sahkir at 16.43

Categories: 2012
/