Shopping Cart
Your Cart is Empty
There was an error with PayPal
Click here to try again
Thank you for your business!
You should be receiving an order confirmation from Paypal shortly.
Exit Shopping Cart
Th following article was published in the GDN today
www.gulf-daily-news.com/NewsDetails.aspx?storyid=335394
Deal to set up 5MW solar power project   Posted on » Monday, August 06, 2012
MANAMA: Bapco township of Awali, University of Bahrain and several other areas are set to get solar energy.
An announcement in this regard was made following an agreement to set up a 5MW smart solar energy project. The scheme will provide solar energy and increased efficiency through the use of smart grid technology.
The Economic Development Board (EDB) yesterday congratulated Petra Solar, Bapco and the National Oil and Gas Authority on this agreement.
EDB has been closely involved in the development of the project since initiating discussions with Petra Solar in the US in 2010. It also played an instrumental part in the committee that made the project a reality and assisted in setting up the company in Bahrain.
"We are delighted that we have been able to help make this happen. Investment in this sort of technology is a key part of our plans to create high-quality jobs for Bahrainis," Transportation Minister and EDB acting chief executive Kamal Ahmed said.
"This investment will not only create jobs directly, but also benefits for other companies by improving energy efficiency," he added.
"Solar power and a stable electric grid are critical elements to Bahrain developing economic and energy security," said Petra Solar president and chief executive Dr Shihab Kuran.
"In Awali, we are deploying solar power plus we are building a wireless smart grid network, which are the building blocks for command and control of smart cities."
The project will use smart solar technology which couples solar energy generation with grid reliability and smart grid technology.
The initiative will create jobs at several skill levels and provide a strong research and development opportunity for universities.
Featuring a high-tech research and development component inside Bahrain, this project marks the first step in plans to build a powerful ecosystem in Awali, based on Petra Solar's technology.
I really hope this project will be implemented as many projects in the past that have been trumpeted to be the next best thing have fizzled out - like zero waste where our  organic waste was to be used in a facility producing methane gas  for household use. Yah really what came from in nought!
Sorry to be so negative but so far there is a lot of talk but no visible action with regards to green technology and saving the environment.
Have you noticed that despite a law to conserve the Tubli bay as a nature reserve still pieces are being filled in and nibbled off to accommodated what ever projects have been granted a license to to build including our own government projects and private projects ( from 25 km2- a mere 10km2 going going gone)! Tell me how is it possible to acquire land in the sea isn't it law that all beaches are to be for the good of the public.
Tubli Bay:
Mangroves
at Ras Sanad (Tubli Bay)Tubli Bay is an inshore coastal area situated in the north-east of Bahrain. 
It is characterized by its unique ecology as it provides a habitat for important coastal ecosystems, such as mangroves and sea-grass. 
It is the only place in Bahrain with an ecological interaction between mangroves,sea-grass and corals. 
These three systems are important for productivity of coastal fisheries that society depends on.
Tubli Bay is an inshore coastal area situated in the north-east of Bahrain. 
Manama, the capital city, lies north of the Bay.  50,777 (Statistical Abstracts 1994 NB: the subsequent population figures from this reference,unless otherwise stated) people live in the city and the population is increasing, as Manama is the commercial hub of Bahrain and many people  prefer to live within easy reach of the centre.
This can be clearly seen in the area surrounding Tubli Bay where a large area of coast is being infilled for urban development each year.
For the past forty or so years, however, the Bay has been under threat from human activity.  Reclaiming the coast for development has caused the size of the Bay to decrease from 23.5 square km in 1956 to 16.1square km in 1996 (Environmental Affairs, 1996).  This on-going activity is causing even more degradation /destruction to the Bay's vulnerable ecology.  Tubli Water Pollution Control Center discharges 160,000cubic meters (Personal Communication, 1996) into the Bay every day.  Sand-washing plants continue to discharge silt into the Bay daily, and the dumping of rubble and litter within its surroundings still remain a point of concern.  Fishing activities are carried out in the Bay, even though it represents a nursery ground for commercially important species.
Tubli Bay is characterized by its unique ecology. 
It is one of the only sheltered,low-energy areas in Bah
rain and rich ecologically.  It provides an important coastal habitat.  The main plant species that Tubli Bay is mostly recognized for are "the mangrove trees". 
The Bay (and closely surrounding areas) is the only place in Bahrain where these ecologically important species still survive. 
Only one type of mangrove species exists and that is known as the Black Mangrove; Avicennia marina.
The Mangrove Stand,protected by the Environmental Affairs of Bahrain, is situated at Ras Sanad in the south-western part of the Bay. 
This particular mangrove stand, estimated to be 430,000 square meters in area, was designated as a nature reserve in 1988. 
Originally, mangroves were also to be found in many other areas of the Island.  The area is also RAMSAR listed internationally (Convention on the Conservation of Wetland of International Importance especially as Waterfowl Habitat).
The protected mangrove reserve at Ras Sanad has a tree density of 100%.  The highest mangrove tree was approximately 3.5m tall. 
The average tree height recorded was approximately 2.3m tall(along the creek) (Halel, 1996). Measurements taken during a study survey in Summer 1996

Another important habitat dominating the Bay is the"seagrass ecosystem".  The most common sea-grass species in Tubli Bay is Halodule uninervis. 
This species of sea-grass is a pioneer species and is tolerant of a wide range of environmental factors (e.g.temperature extremes). 
The mudflats are also very important components of Tubli Bay where they provide a habitat for many species that constitute a food source (e.g. snails and worms) for a large number of migrating birds in the area.
Traditionally, it was known by many, especially fishermen,for substantial shrimp quantities caught during the summer (Abdulqader,1994). 
Two studies that were carried out, An Ecological Study of some Coasts in Bahrain in 1983 and A Study of Bahrain Marine Environment in 1989, showed how important the Bay is for coastal fisheries (Khamdan & Shahabi 1993). 
It was a popular area, due to its beauty and uniqueness, for the weekend relaxation and enjoyment of people of Bahrain, who would swim in its then clear waters.
Highlighting why protection of the mangrove stand alone is not as efficient as protecting Tubli Bay as a whole
The whole of Tubli Bay is important. 
Its importance lies in its ecology and the interaction of its many elements. 
The sea-grass ecosystem in the Bay and the mangroves at Ras Sanad are closely linked by interactive processes. 
They have biological and physical unctions which co-occur, these being intimately connected in successive sequences.
The sea-grass bed acts as a hydrodynamic barrier that creates a low-energy zone favorable to mangroves.
It also traps and stabilizes sediments, thus helping to prevent blocking of mangrove air roots.
Mangroves, for their part, bind sediments that could smother sea-grass. 
Mangroves and sea=grass ecosystems produce nutrients which facilitate the optimum development of each system. 
This export of nutrients leads to a turnover of biomass and efficient carbon cycling, benefiting all elements of the Bay's ecosystem. 
Both ecosystems are connected through the movement of evi-fauna which feed on sea-grass beds and possibly carry nutrients back to the system by defecating in the mangroves. 
Both are sources of primary productivity and detritus production.
Sea-grass provides substantial support grounds for marine organisms which use them, and the mangroves, during several stages in their lives, such as for resting, feeding or reproduction.   
The mudflats provide a habitat for bivalves and worms,and therefore a feeding ground for shrimp, crab, overwintering waders and shorebirds as well as a substrate for nitrogen-fixing blue-green algae and a storage unit for important dissolved substances. 
These interactive processes play a critical, positive role in improving and maintaining the quality of the marine environment. 

From the above, it is clear that the Bay should be treated as an ecological whole, each part being equally important for the efficient functioning of that whole.
 It is also important economically, because it is a nursery and feeding ground for commercial fisheries. 
These fisheries are socially important to the people of Bahrain,especially those who rely on them for their livelihood. 
Tubli Bay, however, has a value in itself regardless of its usefulness to people, as it provides a habitat and feeding ground for birds, fish, shrimp, crabs, reptiles and many other smaller organisms.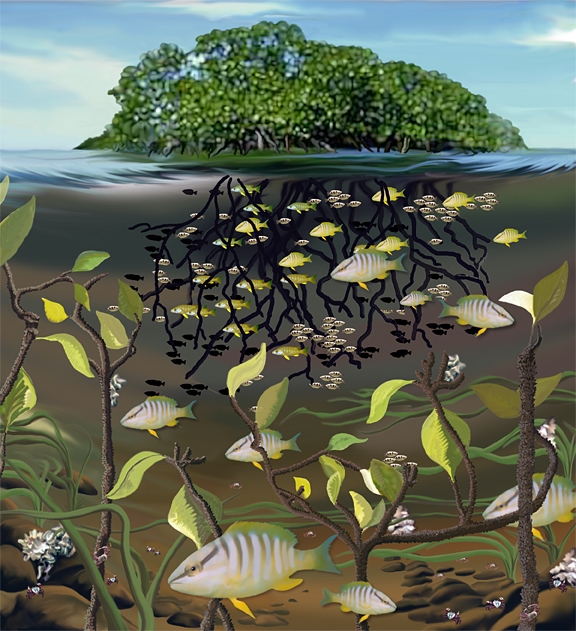 Protecting Tubli Bay from any further destruction is a necessity, for the reason that this area is very unique ecologically to Bahrain. 
The best management option to adopt would be the sustainable development of Tubli Bay. 
Sustainable development would integrate ecological sustainability, social sustainability and economic sustainability.  It aims for the best environmental, economic and social options. 
In this option, as the destructive activities on the Bay would be stopped and measures taken to reduce the effect of others, most of the adverse impacts on the By would be eliminated. 
Habitats would no longer be destroyed by infilling and accumulation of driftwood and rubbish in the mangrove pocket area would no longer be a problem.

Long-term ecological benefits could be gained by the adoption of this option. 
The interference to Tubli Bay would be minimal, photosynthesis and the dispersion of pollutants by the mangroves would be more efficient, and gradual recovery would take place. 
As a result,inshore and coastal fisheries can thrive.
Categories: 2012
/