Shopping Cart
Your Cart is Empty
There was an error with PayPal
Click here to try again
Thank you for your business!
You should be receiving an order confirmation from Paypal shortly.
Exit Shopping Cart
Atkins' Middle East chairman and former chief executive Keith Clarke  delivered his Brunel International Lecture in Bahrain on behalf of the UK's Institution of Civil Engineers (ICE). His lecture was under the patronage of the Minister of Energy, Dr. Abdul-Hussain bin Ali Mirza and supported by the Bahrain Society of Engineers.
The lecture, entitled "Beyond rhetoric – delivering a low carbon society", set out Keith Clarke's views on the challenges of tackling climate change from the point of view of the engineering design sector.
Keith Clarke is an environmental champion and was responsible for overseeing the development of Carbon Critical Design as part of Atkins' response to climate change.
Apparently  a  world wide 2 degrees increase of temperature was agreed on to be acceptable in Copenhagen 2009.
I remember well the Copenhagen 350 event at Adhari Pool in October of 2009.
And what does this 350 number even mean?
350 is the number that leading scientists say is the safe upper limit for carbon dioxide—measured in "Parts Per Million" in our atmosphere.
350 PPM—it's the number humanity needs to get back to as soon as possible to avoid runaway climate change.
If we're already past 350, are we all doomed?
No. We're like the patient that goes to the doctor and learns he's overweight, or his cholesterol is too high.
He doesn't die immediately—but until he changes his lifestyle and gets back down to the safe zone, he's at more risk for heart attack or stroke.
The planet is in its danger zone because we've poured too much carbon into the atmosphere, and we're starting to see signs of real trouble: melting ice caps, rapidly spreading drought.
We need to scramble back as quickly as we can to safety.
And 450 now is acceptable? in who's world?
What does a increase of 2 degrees mean globally?
 The gletsers in Greenland will be mostly melted. Raising the sealevel.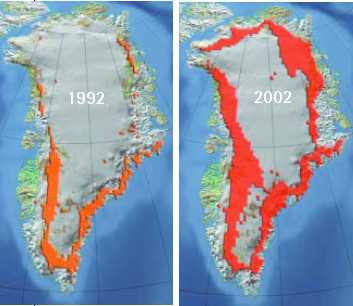 So, what is global warming and what's the problem anyway?
The science is clear: global warming is happening faster than ever and humans are responsible.
Global warming is caused by releasing what are called greenhouse gases into the atmosphere.
The most common greenhouse gas is carbon dioxide.
Many of the activities we do every day like turn the lights on, cook food, or heat or cool our homes rely on the combustion of fossil fuels like coal and oil, which emit carbon dioxide and other heat-trapping gases when burned.
This is a major problem because global warming destabilizes the delicate balance that makes life on this planet possible.
Just a few degrees in temperature can completely change the world as we know it, and threaten the lives of millions of people around the world.
But don't give up hope! You can help stop global warming by taking action at 350.org.
Categories: 2012
/